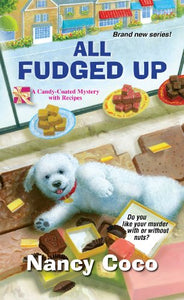 All Fudged Up
By Nancy Coco
Welcome to the Historic McMurphy Hotel and Fudge Shop--where life is sweet, revenge is sweeter, and murder is here to to stay. . .

You Can't Fudge An Alibi

Allie McMurphy is up to her neck in renovations at the grand old hotel that's been in her family for generations. With its quaint Victorian charm--and world-famous fudge shop--the place is one of Mackinac Island's most beloved landmarks.

Sure, every family has a skeleton or two in the closet. But Allie didn't expect to find an actual corpse inside hers, especially one Joe Jessup, who had a long-running feud with her dear departed grandfather. Which makes Allie the number-one suspect.

Can she sniff out the culprit before another victim checks in?
Mass Market Paperback