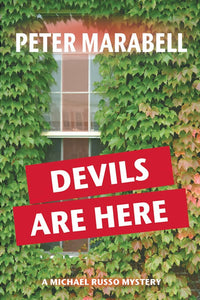 Devils are Here
by Peter Marabell
The 3rd book in the Michael Russo series.
Murder and mayhem rock the campus of Bannister College, one of Petoskey's most revered institutions. It's summertime in Petoskey.
Michael Russo investigates the theft of a valuable collection of books from Bannister College, a small, elite Liberal Arts school on the outskirts of town. The case takes a dangerous turn when the Dean of Sciences is shot to death and fear stalks the campus. Faculty and administrators detest the disruption dropped on their quiet academic community by the police and the press. When Russo makes a surprising discovery that threatens Petoskey's most revered institution, it's unclear what the impact will be on Bannister, the community and Michael Russo himself.  Available from select northern Michigan bookstores and in both formats from AMAZON.COM.