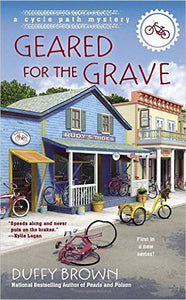 Geared for the Grave
by Duffy Brown
Book #1 in the Cycle Path Mysteries Series
Mackinac Island is a peaceful summer resort town where everyone coasts through the streets on bicycles. But after someone sends a prominent local on her final ride, it's up to one resourceful visitor to get things running again in the first Cycle Path Mystery.
 
Hoping to shift her chances of a promotion in her favor, Evie Bloomfield heads to Mackinac Island to assist her boss's father. Rudy Randolph has broken his leg and operating his bike shop, Rudy's Rides, is too much to handle by himself. But Evie's good turn only leads to more trouble.
 
After Evie's arrival, wealthy resident Bunny Harrington dies in what looks like a freak bike accident. Upon closer inspection, Bunny's brakes were tampered with, and now the prime suspect in her murder is also Bunny's number one enemy: Rudy. So if Evie hopes to stay on her boss's good side, she'll need to steer Rudy clear of jail. Now she must quickly solve this mystery so she can put the brakes on the real killer's plan...
"Sparkling dialogue, an unforgettable island setting, and all the charm a cozy mystery fan would want."--New York Times bestselling author Ellery Adams