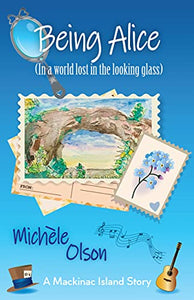 Being Alice (In A World Lost in the Looking Glass)
by Michele Olson
Abruptly pushed into a contract by her scheming uncle, Alice has no choice but to sign on as the guitar and drum tech for world-renowned recording artist J.D. Grayling. Heading for the summer gig at the notorious Grand Hotel on Mackinac Island, it isn't her musical ability that consumes her with fear.
Horrified at the idea of J.D., his band, and visitors to the Grand seeing her mangled face from the accident which took her self-esteem, Alice plans to stay in the shadows.  Knowing she can never fit in; her worries are enhanced when band members one-by-one mysteriously become too ill to perform.
She wonders if the world is going mad, or if the truths she is learning from her new friends at the island's Creative Lilac shop can change the pain she feels from her past. Can Alice survive the summer working for the singer-songwriter she has idolized for years or is she once again headed down a rabbit hole of disappointment and betrayal?
"What happens when you combine a love of Alice in Wonderland, Nora Ephron, singer-songwriters, and the desire for true faith? You embark on an unforgettable 1981 journey to magical, Mackinac Island."
-Author, Michèle Olson