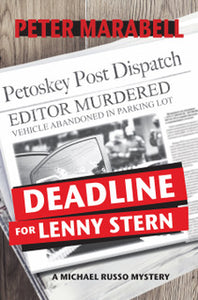 Deadline for Lenny Stern
by Peter Marabell
The 6th book in the Michael Russo series
Lenny Stern's life is in danger. The Petoskey crime reporter has received death threats after publishing a book that blows the lid off an infamous Chicago crime that Stern wrote about during his years covering the Mafia in the Windy City.
The book's accusations of murder and bribery have gotten the attention of someone who wants Stern dead. All eyes focus on the Mob since the murderous tale began with the assassination of two Mafia bigshots. But sometimes the obvious is misleading.
Private investigator, Michael Russo, is hired to protect Stern during his northern Michigan tour to promote the book, and to discover who's behind the threats.
From the summer heat of Petoskey and Harbor Springs to the cooling breezes of Mackinac Island, Russo and sidekick, former Army Ranger, Henri LaCroix, put their experience and skill to the test. Can northern Michigan's top private investigators protect Lenny Stern from an assassin's bullet?