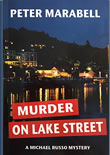 Murder on Lake Street
by Peter Marabell
The 2nd book in the Michael Russo series.
"For such a small island, Mackinac sure is a busy place for bad guys."

Michael Russo's friend and mentor, Frank Marshall, is the target of an assassination attempt one damp autumn night in Petoskey. The case goes cold fast. The police have no suspects and no leads, so Russo begins his own investigation. It is quickly apparent that the attack was not a random shooting but a professional hit. Russo vows to hold those involved accountable by whatever means necessary. He tracks the shooters, tries to find out who ordered the hit, and manages to antagonize anyone who gets in his way. When violence threatens Russo, all roads lead to Mafia boss Joseph DeMio, an old nemesis from Mackinac Island. Along the way, he discovers more about himself as an investigator, as a friend, and most important, as a man.