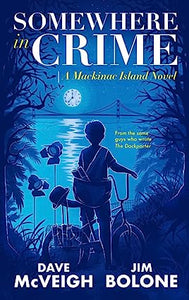 Somewhere in Crime: A Mackinac Island Novel
Shipping November 1, 2023
By Dave McVeigh and Jim Bolone, authors of "The Dockporter"
Mayhem, Murder, and Magic.
Welcome to the Summer of 1979.

Paperboy Jack McGuinn thinks his life on Mackinac Island, Michigan, is all figured out. He knows his route and never misses a delivery. But when a Hollywood production arrives to film "Somewhere in Time" starring Christopher Reeve and Jane Seymour, his perfectly constructed life comes apart like a newspaper in a windstorm. The island is gripped with movie mania, and his parents are pulled apart by mysteries from their past.

With the help of a metalhead misfit named Blaze, Jack embarks on a delusional mission to earn reward money from a 20-year-old unsolved murder. His goal? To buy the dream vacation his parents never quite had the time to take—a trip he believes can save their marriage and his perfect life on the island.

As Jack digs deeper, he sees the island in a new light—and it's not all rocky beaches, tranquil trails, T-shirt shops, and pistachio fudge. Reality unravels as ghosts from the past, some real, some imagined, reemerge.
"Somewhere in Crime," the prequel to the Amazon bestseller and Michigan Notable Book "The Dockporter," is a nostalgic, touching – and often hilarious – coming-of-age adventure set against the backdrop of the filming of a Hollywood classic.