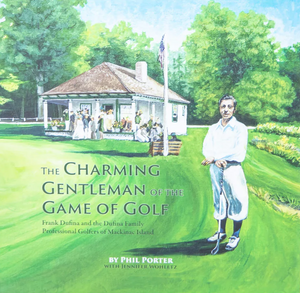 The Charming Gentleman of the Game of Golf
by Phil Porter
Legacy is entwined with the history of Wawashkamo Golf Club, which is an historic site embedded within an historic site, occupying the Battlefield of 1814 on Mackinac Island.  Dufina is the most enduring figure in Wawashkamo's long history.  He is a quiet and humble gentleman who spent his life caring for the course and its golfers. 
While Dufina's skill as a golfer and management of the course were significant and long-lasting, it was his proficiency as a teacher of the game that remains his enduring legacy.  This is the story of Frank's career and his impact as an instructor, along with the devotion to the game he passed on to his nephews, Phil and Jim, and grand-nephew, Dennis, who also became golf professionals.
This book is made possible by a generous donation from the Mackinac Island Community Foundation's Historic Battlefield at Wawashkamo Fund.
Hardcover